This map is part of the amended Comprehensive Plan that was adopted in December 2012. It provides a generalized view of how land in the District is intended to be used. It does not necessarily show land use as it exists today, and it does not show zoning information. Maps of existing land use in the District can be viewed at Existing Land Use Maps. Zoning maps are made available by the DC Office of Zoning.
Future Land Use Index Map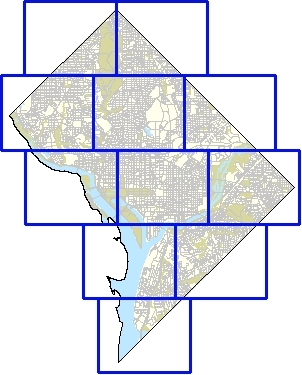 Use the index map above to view 11" x 17" sections of the original over-sized map. Each of the 11 sections is presented as a separate document in PDF format. To print this information on smaller paper, use the Adobe Acrobat Reader to shrink the page to fit, or use its graphics select tool to choose a portion of the page to print. Many printers also allow users to tile 11 x 17 maps onto pairs of 8.5 x 11 pages. Colors on this map indicate types of land use (residential, commercial, public, etc.) and the intensity of use (high density, medium density, low density, etc.) that typically occur within each area.
Live Future Land Use Map
For more information on the Comprehensive Plan please contact Josh Ghaffari, Comprehensive Plan Program Manager, (202) 442-7705; [email protected] .