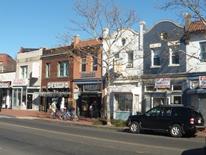 Some of the District's best known residential neighborhoods can be found in Ward 1, many of which have great historic significance for the local African-American and Latinx populations.
While most of these neighborhoods are dominated by row houses, they are all distinct. Columbia Heights sits right in the middle of the ward, boasting beautiful historic townhomes, a major commercial core and landmarks such as the Tivoli Theater. Adams Morgan is home to an eclectic mix of shops, restaurants and bars, and has long been a center for city nightlife. This activity extends along the U Street Corridor, much of which serves as the southern boundary of the ward. Mount Pleasant is known for its unique townhouses, strong international cultural mix and leafy streets against the National Zoo and Rock Creek Park.
The Pleasant Plains neighborhood is home to Howard University, which also abuts the townhouses and gracious Victorian homes of LeDroit Park and portions of the Shaw neighborhood. Sixteenth Street, NW serves as a grand boulevard running through the center of the ward, lined with impressive apartment buildings, embassies, churches, and Meridian Hill/Malcolm X Park.
Ward 1 is a culturally rich section of the city that serves many functions for many different people.
Planning in Ward 1
Comprehensive Plan and Supporting Documents
Neighborhood and corridor plans for Ward 1 include:

Contacts
Jonathan Greene, Community Planner
[email protected]
(202) 442-8816