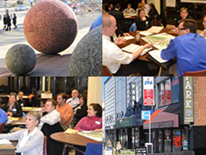 Planning in Ward 3
The Comprehensive Plan for the National Capital: District Elements has Area Elements (chapters) that provide geographically-specific policy guidance. Area Elements that cover neighborhoods within Ward 3 include:
The Comprehensive Plan's Area Elements use planning boundaries, not Ward boundaries. The Comprehensive Plan is a 20-year plan, while Ward boundaries are political boundaries that can change every 10 years due to redistricting following the decennial Census.
The Comprehensive Plan Amendment project web page is plandc.dc.gov. Questions, comments and feedback on the Comprehensive Plan should be emailed to [email protected].
Neighborhood and corridor plans for Ward 3 include:
Development Review in Ward 3
Historic Preservation in Ward 3
Ward 3 Maps and Data
Contact