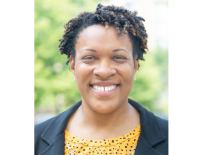 Prior to her appointment as Director of the DC Office of Planning (OP), Anita Cozart served as Deputy Director of Community Planning and Design, her second tour of service at OP. In that role, Ms. Cozart oversaw OP's work on neighborhood planning and urban design. Her teams have spearheaded the recent Comprehensive Plan update, commenced the next generation of neighborhood plans, and developed the Streets for People program to activate downtown public spaces and support economic recovery. As Director, Ms. Cozart looks forward to advancing implementation of the Comprehensive Plan, community plans, and zoning and preservation initiatives that support District goals around COVID-19 recovery, housing equity, resilience, civic resources and racial justice.
Ms. Cozart has a history of public sector work primarily focused on Washington, DC. She previously served at OP as a Neighborhood and Citywide Planner and Chief of Staff. Prior to her return to OP, she served as a managing director at PolicyLink, where she led place-based, equitable development initiatives in cities across the United States. She brings to her current work at OP a decade of experience utilizing a racial equity lens with community planning, housing, transportation and infrastructure policy.
Ms. Cozart holds a Master of City & Regional Planning from the University of California, Berkeley and a Bachelor of Science in Civil & Environmental Engineering from the University of Pittsburgh. She is a proud resident of Ward 5, where she lives with her spouse and children.