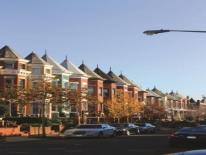 Ward 5 is extremely diverse in character and history, ranging from quiet residential neighborhoods and local shopping streets, to new high-rise development and industrial uses. The Brookland neighborhood sits in the middle of the ward in the northeast quadrant. Developed as a commuter rail village in the late 19th century, it is full of charming Victorian homes and a number of Catholic institutions such as Catholic University of America and the Franciscan Monastery of the Holy Land in America. Brookland gives way to early 20th century bungalow neighborhoods such as Michigan Park and Lamond-Riggs to the north and Woodridge to the east.
To the west, neighborhoods such as Eckington and Bloomingdale, on either side of North Capitol Street, are more typical of the townhouse neighborhoods of central Washington, DC. To the south, Ivy City, Trinidad, and Carver-Langston are dominated by 20th century porch-front townhouses. To the east, Fort Lincoln is a modern "new town" development, with a mix of townhouses and apartments from the 1960s to the present.
Ward 5 has a great deal of both industrial land and open space. Florida Avenue Market has been the city's wholesale center although it is transforming into a mixed-use district. Other industrial spaces abound in Eckington, Fort Totten, and along the passenger and freight rail corridors adjacent to New York Avenue and Bladensburg Road. The Ward is also home to the rolling hills of the National Arboretum and the great lawns of the Armed Forces Retirement Home. The northern portion of the NoMA neighborhood sits within Ward 5, and a number of mixed-use, high-rise developments are finished or in the works, bringing a bit of the hustle and bustle of downtown to the ward.
Planning in Ward 5
Comprehensive Plan and Supporting Documents
Neighborhood and corridor plans for Ward 5 include: