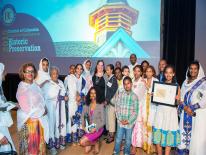 Since 2003, the Historic Preservation Office has sponsored the District of Columbia Awards for Excellence in Historic Preservation. These awards honor outstanding preservation projects and exceptional contributions by individuals and organizations in support of historic preservation in the District.
2017 Awards Program
Registration is now open to attend the 2017 District of Columbia Awards for Excellence in Historic Preservation. This year's program will take place Tuesday, May23 at the historic DAR Constitution Hall. Cosponsored by the Historic Preservation Office, the DC Preservation League, and Daughters of the American Revolution, the awards celebrate preservation excellence in design and construction, community involvement, and stewardship. Honorees will include recipients of the State Historic Preservation Officer's Award, HBRB Chair's Award, and the Individual Lifetime Achievement Award.
Built in 1929, Constitution Hall, a monumental Neoclassical building, hosts a variety of events including concerts, speakers, films, graduations, and, of course, the Preservation Awards!
Please RSVP HERE to join us in this National Historic Landmark as we honor the 2017 preservation award winners:
DAR Constitution Hall
311 18th Street and 1776 D Street , NW
May 23, 2017
7 pm awards ceremony, reception to follow
The 2017 preservation awards reception is generously supported by the following donors:
Landmark Partner
Douglas Development Corporation
Capstone Partners
Antunovich Associates
Ashkenazy Acquisition
Atlantic Refinishing and Restoration, Inc.
EHT Traceries
McCullough Construction, L.L.C.
Keystone Partners
Beyer Blinder Belle Architects & Planners LLP
Bonstra│Haresign ARCHITECTS
Chapman Development
Clark Construction Group, LLC
Eric Colbert & Associates, PC
Dentons US LLP
Fillat + Architecture
Kindy French & Emanuel Friedman/Friedman-French Foundation
Emanuel J. Friedman Philanthropies
GCS│SIGAL
Gould Property Company
Quinn Evans Architects
Roadside Development
The Whiting-Turner Contracting Company
Winmar Construction
Cornerstone Partners
Forest City Washington
Hartman-Cox Architects
Presidents's Circle
The Christman Company
David M. Schwarz Architects
Grossberg, Yochelson, Fox & Beyda, LLP
Grunley Construction Company, Inc.
Potomac Construction ServicesThe Christman Company

Individual Partners
J. James Braeu
____
Hosted by:
District of Columbia Office of Planning/Historic Preservation Office
DC Preservation League
Daughters of the American Revolution
Visit Past Awards Programs