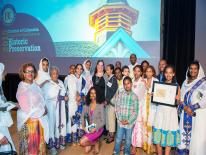 Since 2003 the District of Columbia Awards for Excellence in Historic Preservation have honored outstanding preservation projects and exceptional contributions by individuals and organizations in support of historic preservation in the District.
With the 2020 program, The DC Preservation League assumed full management of the awards ceremony. The 2020 program took place on November 18. The awards program is posted on the organization's website.
An video of the program is posted on the DCPL home page .
Visit Past Awards Programs