The District's draft Comprehensive Plan envisions transforming the North Capitol Crossroads area around North Capitol and Irving Streets into a connected, well-designed, and multi-modal neighborhood. The Office of Planning initiated the North Capitol Crossroads effort to develop a broader planning framework for the North Capitol Street, Irving Street, and Michigan Avenue corridors and large properties like the Armed Forces Retirement Home, Washington Hospital Complex, and the former McMillan Sand Filtration site.
In FY21, OP, along with the District Department of Transportation, is leading the North Capitol Cloverleaf Urbanization Study, funded with technical assistance from the Transportation Planning Board. The study will provide intersection analysis for retrofitting the North Capitol and Irving Street Cloverleaf interchange into a pair of two connections between the grade separated roadways with new signalized intersections.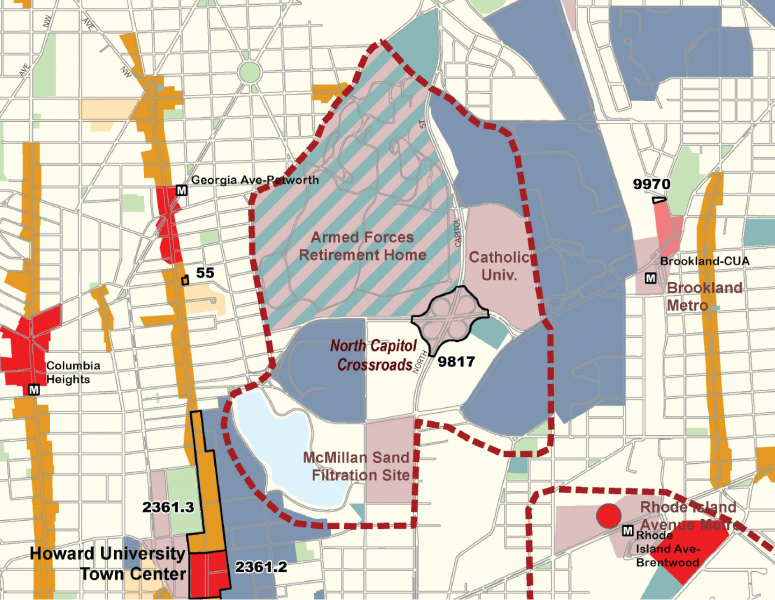 North Capitol Crossroads is an interagency effort building on recent planning, including the North Capitol Streetscape Guidelines (2019), Crosstown Multimodal Transportation Study (2016), and North Capitol Street Cloverleaf Feasibility Study (2009), as well as master plans for the Catholic University of America (2014), McMillan Reservoir Sand Filtration Site (2014), Veterans Affairs Medical Center (2010), and Armed Forces Retirement Home (2008).
The Office of Planning recognizes the need to consider these planning efforts in concert and explore opportunities to guide future urban growth that changes the current development pattern to one that is open, connected, inclusive, and sustainable.
For more information about the North Capitol Crossroads, contact Erkin Ozberk, Senior Neighborhood Planner at [email protected].