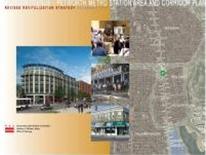 The Georgia Avenue-Petworth Metro Station and Corridor Plan, from Decatur Street in Ward 4 to Euclid Street in Ward 1, provides a framework to guide growth and development on Georgia Avenue while preserving and enhancing the quality of life in the community.
To ensure that neighborhood and citywide concerns were balanced, the Plan is designed to:
Leverage the public investment of the Georgia Avenue-Petworth Metro Station and employ Transit-Oriented Development (TOD) principles.
Balance growth and development by identifying and guiding opportunities for redevelopment.
Identify strategies to encourage a better mix of uses, including quality neighborhood-serving retail and housing.
Maintain and enhance neighborhood character.
Prioritize when and where public investment should occur.
The planning process was conducted in two phases:
Phase I included the District-owned property at the Georgia Avenue-Petworth Metro Station. The District issued a Request for Proposals and through a competitive process, the site was awarded to developer Donatelli & Klein to build a mixed-use development (approx. 148 residential units and 17,000 square feet of neighborhood-oriented retail space) with 20 percent allocated for affordable housing.
Phase II covered the Georgia Avenue Corridor from Euclid Street in Ward 1 to Decatur Street in Ward 4. Phase II presents a strategic development plan and revitalization strategy for the corridor with special emphasis on Transit Oriented Development principles to guide growth and enhance the viability of the avenue. The primary components for the study include:
Land use and zoning analysis
Traffic/transportation assessment
Real estate and market analysis
Urban design
The Council of the District of Columbia approved this plan on June 20, 2006 through Resolution 16-0686.