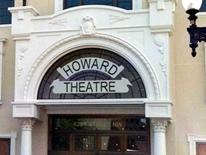 OP is one of four District agencies which review and provide recommendations on proposed revenue bond projects.
Howard Theatre Restoration
The historic Howard Theatre will be restored to its former glory with the interior updated and enhanced for performance and educational activities.
The theatre will undergo complete renovation to include restoration of the exterior masonry façade and modernization to provide mixed-use entertainment venue, a lounge, full-service restaurant, museum/gift shop, auditorium, stage, lobby, small retail shop and foyer with donor wall and studio and classroom space. It is located in the Shaw/LeDroit Park neighborhood of Ward 1.
Project at a Glance
Project Title: Howard Theatre Restoration
Office: Revenue Bond Program Office, DMPED
Type: Renovation/Modernization
Estimated Budget: 14,200,000.00
Location: 620 T Street (Ward 1), NW, Washington, DC