Join the Conversation!
Visit the Chevy Chase Small Area Plan public input page to learn more about the project, sign up for email updates, and register for upcoming meetings and activities: https://publicinput.com/chevychase.
Background
In Fiscal Year 2021, Council allocated funding for the DC Office of Planning to undertake a Small Area Plan (SAP) in the Chevy Chase neighborhood along Connecticut Avenue, NW. The SAP will be a guiding vision for inclusive growth rooted in a people-centered planning and design approach that aligns with OP's priorities of housing production, economic recovery, and equity and racial justice.
Led by OP, the SAP will be developed in coordination with partner agencies undertaking the design plans for the Chevy Chase Community Center / Library redevelopment project and the Connecticut Avenue Reversible Lane Study.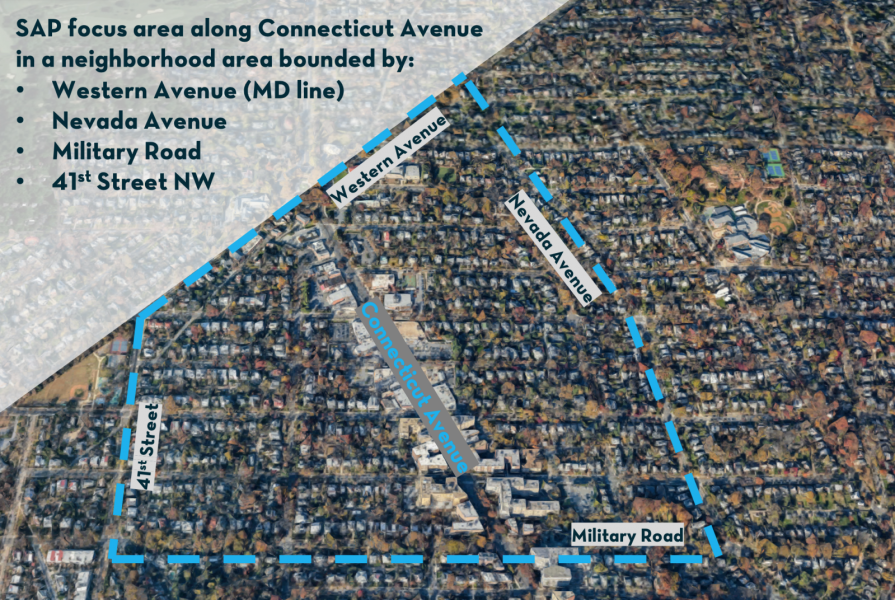 The Chevy Chase neighborhood is understood to extend beyond the focus area boundary of the SAP, in all directions, and into Maryland. The core focus of the SAP is the Connecticut Avenue corridor that runs through Chevy Chase DC, which is subject to land use changes and was identified as a future planning analysis area in the proposed Comprehensive Plan amendment.
About Small Area Plans (SAPs)
SAPs supplement the Comprehensive Plan by providing more detailed recommendations and implementation strategies for the development of city blocks, corridors, and neighborhoods. The intent of such plans is to guide long-range planning and development that establishes future neighborhood improvements, identifies gaps and opportunities in neighborhood services and amenities, and advances social and economic benefits.
SAPs are developed through a collaborative process that entails significant community outreach and engagement, to both communicate the goals and milestones of the planning process as well as provide opportunities for community dialogue on strategic priorities in the planning area. SAPs are typically approved by resolution of the DC Council, and their key recommendations are subsequently incorporated into the Comprehensive Plan Elements.
Questions?
Reach out to us at [email protected]. We look forward to hearing from you.
The Chevy Chase Small Area Plan is managed by Erkin Ozberk and Heba ElGawish in the Neighborhood Planning Division.