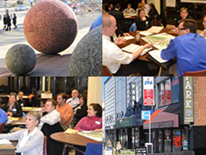 Ward 3 is a largely residential area located in the upper northwest quadrant of the city. In many ways, its neighborhoods are a series of villages clustered around local commercial centers. Some of these neighborhoods grew up along the Connecticut Avenue streetcar line that connected DC with Chevy Chase in suburban Maryland. Woodley Park, Cleveland Park, North Cleveland Park/Forest Hills and the DC-portion of Chevy Chase all follow a similar pattern of a commercial core with local shops and restaurants, surrounded by a cluster of dense apartment buildings and/or townhouses, and spreading out into single-family homes.
Tenleytown, Palisades and Spring Valley, straddling Wisconsin Avenue, MacArthur Boulevard and Massachusetts Avenue respectively, follow a similar, though more single-family home-oriented, pattern. Friendship Heights also follows this pattern, but its commercial core has grown tremendously over the past ten years, and is now a regional draw with its high-end shops and restaurants.
Much of the remainder of the Ward consists of single-family homes set among tall trees and parks. Some are modest in size, while others are veritable mansions which include a large number of foreign ambassadorial residences. The character of these areas is more suburban in nature, with a greater concentration of cul-de-sacs than anywhere else in the city.
Planning in Ward 3
Comprehensive Plan and Supporting Documents
Neighborhood and corridor plans for Ward 3 include:
Contact