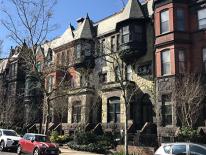 Washington, DC, is known for its low-slung skyline, majestic avenues, and leafy residential neighborhoods. Its commercial and residential streets are largely defined by a pedestrian scale enlivened by bay, oriel and show windows, tower-like features, porches, and other architectural embellishments that the city has encouraged by allowing building projections into the public right-of-way since 1872. Bay windows are probably the best-known type of building projection, and the city has traditionally used these projections to encourage architectural variety along its streets. Additional requirements and new types of building projections have been allowed over time in response to the changing urban environment and architectural trends. Today, our city allows 25 different types of building projections to occupy public space.
In Spring 2016, the Department of Consumer and Regulatory Affairs (DCRA) asked the Office of Planning (OP) to review DCMR 12: Construction Code, Chapter 32: Encroachments as part of the 2015 update of the construction code. OP assessed the city's projection regulations and their evolution as a basis for recommending changes to be considered as part of the 2015 update. This assessment included the review of previous versions of the construction code published in 1872, 1878, 1882, 1887, 1889, 1892, 1897, 1902, 1917, 1930, and 1941. Based on this assessment and subsequent recommendations, the Construction Code Coordinating Board supported revisions to the projection regulations that clarified their intent and formally defined a process for reviewing modification requests. More information on the Construction Code Coordinating Board and the revisions that were incorporated into the 2015 code update can be found here.
The Government of the District of Columbia encourages everyone to understand building projections, their impact on public space, and how the design of a building and its projections fit into larger goals for enhancing communities across the District. For more information, contact Chris Shaheen, Public Space Program Manager of the DC Office of Planning at (202) 442-7616 or by email at [email protected].
Building Projections and Creating the Picturesque City
An illustrated presentation of the District of Columbia's projection regulations including their origins, intent, types of projections, and select regulations.
For More Information:
Intent and Impact of Projection Regulations in the District of Columbia
Regulating Building Projections