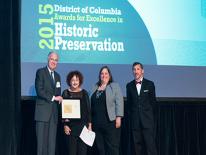 The 2015 District of Columbia Awards for Excellence in Historic Preservation Awards Program was an event of May 6, 2015 at the historic DAR Constitution Hall, 1776 D Street, NW. A total of 13 awards were presented during the program ceremonies.
Videos featuring each award are accessible on youtube.
Photos of the event are accessible at this link.
A copy of the program is accessible as a related document.
_________
The 2015 preservation awards reception was generously supported by the following businesses and individuals:

Landmark Partner – Douglas Development Corporation

Capstone Partners – Antunovich Associates│ Ashkenazy Acquisition Corporation │ Bryan Cave LLP │ James G. Davis Construction Corporation │ EHT Traceries │ GCS│Sigal│LLC │ McCaffery Interests │ McCullough Construction, L.L.C. │ US Bancorp

Keystone Partners – Beyer Blinder Belle Architects & Planners LLP│ David Bonderman │ Bonstra│ Haresign Architects │ Clark Construction Group │ Eric Colbert & Associates PC │ Kindy French and Emanuel Friedman │ Peter Fillat Architects │ Gould Property Company│Property Group Partners │ Trump Hotel Collection │ Wagner Roofing │ Winmar Construction

Cornerstone Partners – EagleBank Corporation │ First Potomac Realty Trust │ Hartman-Cox Architects │ Shalom Baranes Associates, PC


Foundation Partners – EverGreene Architectural Arts │ JM Zell Partners, Ltd. │ OLBN, Inc. │ Wells + Associates, Inc. │ The Whiting-Turner Contracting Company

Individual Partners – Fay Armstrong │ Melissa Cohen, AIA, LEED AP