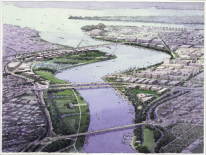 Background
On March 22, 2000, the District brought together 20 federal and District agencies, who own land or have jurisdiction along the Anacostia River, to sign the Anacostia Waterfront Initiative (AWI) Memorandum of Understanding (MOU) to create a partnership to transform the Anacostia River from the city's forgotten river to a gem that could rival any urban waterfront in the United States or the world.
The vision of the AWI is of a clean and vibrant waterfront with parks, recreation uses and urban waterfront settings – places for people to meet, relax, encounter nature and experience the heritage of the waterfront neighborhoods. The AWI also seeks to ensure that the social and economic benefits derived from a revitalized waterfront are shared by those neighborhoods and people living along the Anacostia River for whom the river has been distant, out of reach and unusable.
To guide the efforts of the AWI, the DC Office of Planning (OP) established a steering committee of the MOU agencies, an advisory group of community leaders and a collaborative team of consultants to create an Anacostia Waterfront Framework Plan. The final Anacostia Waterfront Framework Plan was released in November 2003. The Framework Plan identifies five critical themes to guide the creation of a great waterfront along the Anacostia River.

These five themes are:
A Clean and Active River
The AWI charts the course for environmental healing and the rejuvenation of water-dependent activities on the Anacostia River. Pollution must be mitigated, run-off controlled, streams and wetlands restored and water activities promoted.

Eliminating Barriers and Gaining Access
The AWI reconsiders the design of transportation infrastructure in order to gain access to waterfront lands and better serve waterfront neighborhoods. The community must be able to get to the waterfront on beautiful streets and bridges that become gateways to the river's parks and amenities.


A Great Urban Riverfront Park System
The AWI creates a system of interconnected and continuous waterfront parks that will be linked by the Anacostia Riverwalk and Trail. The Anacostia RiverParks system will rival the great waterfront parks of the world and provide open space for adjoining neighborhoods, the city and the nation.

Cultural Destinations of Distinct Character
The AWI enhances and protects the distinct character of regional destinations along the waterfront. This will help create a vibrant waterfront that celebrates the cultural heritage of the river's neighborhoods, the city and the nation.

Building Strong Waterfront Neighborhoods
The AWI promotes sustainable economic development and re-connects the city to the river through new neighborhoods and the waterfront park system by creating opportunities to live, work and play along the river.