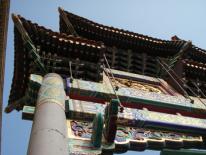 The Office of Planning (OP) is required to review projects the Department of Buildings (DOB) identifies as being in Chinatown. Once an application is submitted in ProjectDox and DOB determines it is complete, OP staff reviews the application for compliance with Chinatown Design Review. Applicants are encouraged to work with OP staff prior to submitting an application in ProjectDox. All projects in the area bounded by Mount Vernon Square, Massachusetts Avenue, 5th Street, G Street, and 8th Street NW go through Chinatown Design Review.
OP staff review each application for:
Consistency of the project with District elements of the Comprehensive Plan for the National Capital and the Chinatown Design Guide Study;
Contribution of building design, including signs and awnings to the Chinese identity of Chinatown; and,
Chinese character of public space improvements and the contribution of those improvements to increased pedestrian activity.
Completing Chinatown Design Review prior to applying to DOB typically decreases the time it takes to obtain a permit. All applicants are encouraged to submit a Chinatown Design Review application and required documentation to OP prior to submitting construction documents to DOB. OP is required to forward applications in Chinatown to the Chinatown Steering Committee (CSC) and Advisory Neighborhood Commission 2C (ANC) for a 30-day review period. Comments from the CSC and ANC could result in changes to the application.
The documents listed below will assist you with completing the Chinatown Design Review process.