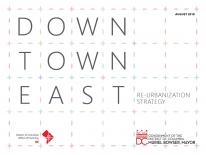 The DOWNTOWN EAST Re-Urbanization Strategy
Located on the iconic doorstep of Union Station and the crossroads of our Downtown, Mount Vernon Triangle, and NoMA neighborhoods, Downtown East represents a bustling gateway to our city's geographic heart.
Over the past few decades, much of our center city area has witnessed a resurgence of investment and opportunity, while Downtown East near the I-395 freeway has largely lagged. Now, however, the area is poised to bloom, with renewed interest, a growing population, large-scale development (complete or under construction), and transformative public space projects—like the New Jersey/New York Avenue Streetscape project—which attempts to heal physical barriers and is expected to provide safe pedestrian connections and a vibrant place for all our residents and visitors to enjoy.
Project Recommendations fall under one of three categories:
Making Physical Connections

Enhancing Neighborhood Vitality

Shaping Places for People
With close proximity to major institutions such as the US Capitol and Union Station, and with ongoing significant re-investment in the area, this strategy document aims to guide the development and preservation of a livable urban neighborhood that serves the needs of its community, both current and incoming. For additional information, please contact Timothy Maher, urban designer and project manager at [email protected]