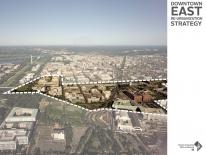 The DOWNTOWN EAST area is a bustling gateway to the heart of the city, located on the doorstep of Union Station and the crossroads of the downtown, Mount Vernon Triangle, and NoMA neighborhoods. However, this area has long faced the challenge of connecting directly to the downtown due to the gap in the streetscape created when the I-395 Center Leg Freeway was constructed. Now, with major developments on the horizon such as the Capitol Crossing air-rights project and the expansion of Union Station/Burnham Place set to attract renewed attention to this area, DC OP is conducting this study to more closely explore strategies to direct future investments that benefit residents and fashion an attractive and pedestrian friendly neighborhood.
Project goals include:
Completing an existing conditions report
Gathering area stakeholders for an ongoing dialogue on the needs and opportunities in the area
Conduct conceptual planning services
Draft an investment and implementation strategy
Topic areas include:
This project will establish a dialogue between area stakeholders and the District and federal governments to develop place-making recommendations and explore an investment strategy that can be used to guide resources within the area for the near and long-term.
Transportation, Connectivity, and Accessibility
Housing and Economic Development
Urban Design
Open Space and Neighborhood Parks
Sustainability
Market Analysis
For additional information, please contact Timothy Maher, community planner and project manager at [email protected] "