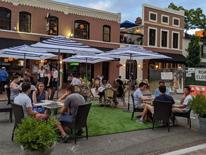 WHAT IS THE STREETS FOR PEOPLE GRANT PROGRAM?
Public space is a vital asset for revitalizing Central Washington and facilitating economic recovery. The COVID-19 pandemic provides an opportunity to reflect on the importance of public spaces and to reimagine new and creative ways to leverage public spaces to revitalize central Washington and facilitate economic recovery. The Streets for People Grant Program will provide funding for creative and innovative public space activations within downtown.
The recent expansion of outdoor dining into District streets has demonstrated how a new temporary public space infrastructure can allow for the flexible public space needed to support safe gathering for residents and visitors to engage in dining, commerce, entertainment, and recreation. Through the Streets for the People grant program, the District seeks to expand the utilization of sidewalks, alleys, curbside space, parking, and travel lanes to create vibrant public spaces that will support economic recovery, re-envision public space activation, promote equity, leverage the work of local artists, cultural organizations and businesses (particularly those that focus on Black, Indigenous and People of Color communities), celebrate DC's vibrant culture, and attract more residents, workers and visitors to central Washington.
WHAT'S HAPPENING NOW?
The Office of Planning awarded grants totaling over $2.8 million on January 31, 2022 to:
Adams Morgan Partnership Business Improvement District
DowntownDC Business Improvement District
Dupont Circle Business Improvement District
Golden Triangle Business Improvement District
Mount Vernon Triangle Community Improvement District
The public space activations implemented by the organizations listed above will take place starting in May 2022 and run through the Spring, Summer and Fall of 2022. For more information about Streets for People events, please visit publicinput.com/dcstreetsforpeople.
PRESS RELEASE: Mayor Bowser and the DC Office of Planning Award $2.8 Million in Streets for People Grants to Boost Economic Recovery in Central Washington
Mayor's Order 2022-120: Designation of Special Event Area - Streets for People
For More Information on Public Space Activation, Urban Design and Public Life:
District of Columbia Public Space Activation & Stewardship Guide