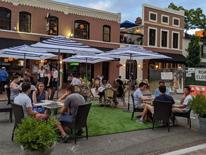 WHAT IS THE STREETS FOR PEOPLE GRANT PROGRAM?
The Streets for People Grant program provides funding for creative and innovative public space activations in Downtown DC and other business corridors. By working with grantees, the District seeks to expand the utilization of sidewalks, alleys, curbside space, parking, and travel lanes to create vibrant and inclusive public spaces that support economic recovery. Streets for People events feature the work of local artists, cultural organizations, and businesses (particularly those that focus on Black, Indigenous and other communities of color). For current program information, please visit the program Public Input page.
WHAT IS THE PROGRAM TIMEFRAME?
Streets for People grants were distributed in Fiscal Year 2022 and 2023.
More Information on Public Space Activation, Urban Design and Public Life:
District of Columbia Public Space Activation & Stewardship Guide