A Discussion of Ward Seven Cultural and Heritage Resources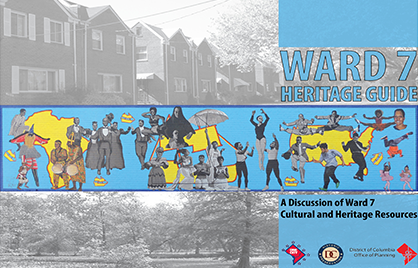 The Historic Preservation Office is pleased to announce the release of the Ward 7 Heritage Guide: A Discussion of Ward Seven Cultural and Heritage Resources. The second in a series of Ward-based heritage guides, this document provides a historical overview of the area and identifies its resources of cultural and historical note.
Ward Seven possesses a wealth of buildings, structures, and sites that provide concrete evidence of its unique history and culture. The guide recognizes historic or culturally important places in Ward Seven and provides a framework for developing strategies necessary to capitalize on and honor historic resources. The guide identifies the ward's attractions, lost resources, and quirky cultural assets as well as discussing community heritage goals, preservation strategies and challenges.
Numerous sites are presented for their cultural importance, including the Shrimp Boat, Empower House, River Terrace Park, the National Training Center for Women and Girls, the DC Boundary Stones, among many others. Schools, churches, firehouses, parks, neighborhoods, theaters, businesses, and cemeteries are discussed from a cultural heritage perspective.
Left unrecognized, many of these resources could become vulnerable to devaluation and even loss as the ward seeks investment and faces development. Through the Ward 7 Heritage Guide, the Historic Preservation Office, along with community partners, hopes to promote stewardship of the ward's heritage and by facilitating initiatives to promote, preserve, and reuse the ward's significant historic resources.