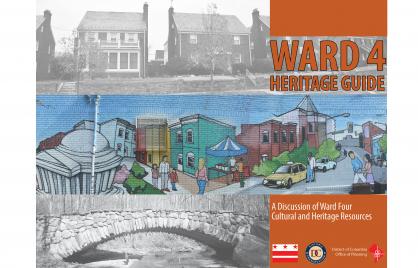 (Washington, DC) Following on the release of Heritage Guides for Wards 5, 7, and 8, HPO's new Ward 4 guide identifies historically and culturally important places in the uppermost part of northwest Washington, D.C. The guide describes sites of cultural importance to Ward 4 residents and visitors and describes the preservation challenges unique to this ward. Through the guide, HPO hopes to foster stewardship of the ward's heritage by facilitating initiatives to promote, preserve, and reuse the ward's significant historic resources.

Ward 4 is home to the city's oldest church and cemetery, several early roads and crossroad communities, and was the site of Washington's only Civil War battle. In the later 19th and early 20th centuries, Ward 4 provided housing in a number of beautifully laid out streetcar and, later, automobile suburbs. Historically home to substantial African American and Jewish populations, the area features businesses, recreational opportunities, places of worship, schools, and other facilities historically associated with its diverse communities.

This Heritage Guide provides a framework for developing strategies to promote and protect the historic resources of Ward 4 and to ultimately enhance economic development, community stability, and quality of life for residents.
The Ward 4 Guide is available in electronic format only. It is accessible and available for downloading on Office of Planning website.