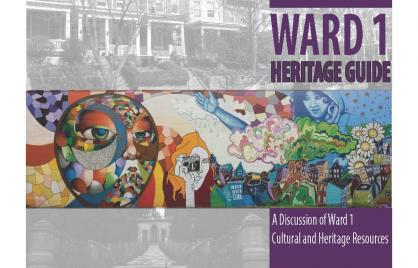 The DC Historic Preservation Office announces the release of the fifth ward-specific heritage document, Ward 1 Heritage Guide: A Discussion of Ward 1 Cultural and Heritage Resources.
Defined by its rich and readily apparent architectural and cultural history, Ward 1 is a cultural melting pot, embracing immigrants from all parts of the world. As the modern heart of the city's Latino and Ethiopian communities, Ward 1 is also the home of many of Washington's African-American and Asian-American businesses, landmarks and cultural resources.
A high concentration of historic resources, including all or parts of 12 designated historic districts and nearly 80 individually listed landmarks are found in Ward 1. Most of these are residential neighborhoods while a few encompass cultural and institutional landscapes such as Rock Creek Park, the National Zoo, and the McMillan Park Reservoir. Archeological sites at Kalorama Park, Piney Branch Quarry, and Meridian Hill also relate historic and prehistoric information on lifeways and trends within what would become one of the city's most vibrant wards.
The colorful 56-page guide is accessible and may be downloaded from the the Related Content link below.