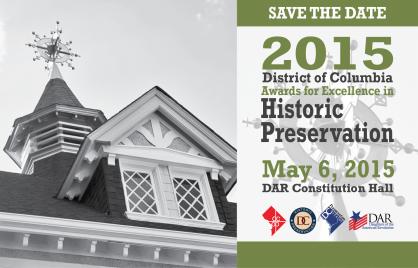 Washington, DC - Save the Date of May 6, 2015 for the annual District of Columbia Historic Preservation Awards Program. For a second year running, the program will take place at the historic DAR Constitution Hall. Cosponsored by the Historic Preservation Office, the DC Preservation League, and Daughters of the American Revolution, a total of 13 awards will be given to 43 individuals, firms and organizations in the following categories: Stewardship, Volunteerism and Community Involvement, Education, Design and Construction, as well as the State Historic Preservation Officer's Award, HPRB Chair Awards, and Individual Lifetime Achievement Award.

Built in 1929, Constitution Hall was designed by John Russell Pope to accommodate DAR's annual Continental Congresses and other activities of the National Society of the Daughters of the American Revolution. The monumental Neoclassical building, executed in Alabama limestone, contains the largest concert hall in Washington, DC which hosts a variety of events including concerts, speakers, films, graduations, and, of course, the Preservation Awards!

May 6, 2015
DAR Constitution Hall
1776 D Street NW (18th and D)
7 pm awards ceremony, reception to follow

Registration for the free event will open in early April.
For additional information please contact Bruce Yarnall at (202) 442-8835 or [email protected]