The 2013 program is set for Monday, May 6 at 7pm at the National Academy of Sciences Building, 2101 Constitution Avenue NW.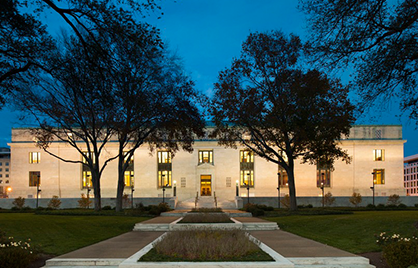 Mayor Vincent C. Gray, the Office of Planning/Historic Preservation Office, with its partner the DC Preservation League, will recognize this year's winners of the 10th Annual Awards for Excellence in Historic Preservation next Monday, May 6, 2013 at 7pm.
This year's host is the National Academy of Sciences, whose magnificent headquarters is one of the few private buildings located on the National Mall. Designed by Bertram Goodhue in 1924, the restrained marble edifice of the NAS belies the visual exuberance inside, where guests will be treated to some of the most exquisite interior décor in the District of Columbia.
Recently restored sculptural work by Lee Lawrie, paintings by Albert Herter, and the unparalleled tilework of Hildreth Meierle adorn the Great Hall, and are supported by innumerable smaller works of art throughout the building, including , relief panels, bronze door handles and lamps, and murals. The added wings are no less interesting with their emphasis on modernity, quality of materials, and a soaring auditorium space, the site of the awards presentation.
And finally, the building's newest additions, completed recently, will be publicly premiered at the event. The sensitively designed additions infill the light courts to provide NAS with adequate meeting and gathering spaces, while also emphasizing the Academy's dedication to science through the use of new technologies.
Doors open at 6:30pm, ceremony begins at 7pm
Reception to follow