Wednesday, November 14, 2012
Brochures feature Foxhall Village Historic District, Washington Heights Historic District, and Washington's cemeteries.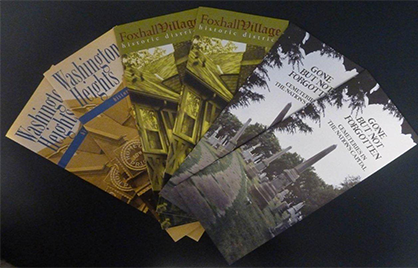 The District of Columbia Historic Preservation Office is pleased to announce the release three new publications as part of its award-winning brochure series. The Washington Heights and Foxhall Village historic districts and Washington's cemeteries are the subjects of the new brochures.
The Washington Heights and Foxhall Village brochures trace the history of these two neighborhoods, with rich illustrations, maps, and historic photographs. The Washington Heights brochure captures the development of this Adams-Morgan neighborhood throughout its subdivision, construction of rowhouses and luxury apartments, and settlement by residents of all walks of life.
Designated in 2007, the Foxhall Village Historic District is a Tudor Revival style townhouse enclave in Northwest. Developed in the 1920s and '30s, the distinctive architecture features brick, stucco, and half-timbered walls; leaded glass windows; slate roofs; and decorative chimney pots.
Gone But Not Forgotten: Cemeteries in the Nation's Capital explores the history of burials in Washington, from Native Americans through the Colonial era and early development of the new Federal City, and into the Romantic age of highly designed garden cemeteries. Replete with historic and contemporary images, this brochure examines an interesting but little highlighted facet of the city's history.
Other brochures in the series include Anacostia, Archaeology in the District of Columbia, Capitol Hill, Cleveland Park, Dupont Circle, Foggy Bottom, Georgetown, Greater 14th Street and Logan Circle, Kalorama Triangle, LeDroit Park, Massachusetts Avenue, Mount Pleasant, Mount Vernon Square, Schools for All, Shaw, Sheridan-Kalorama, Sixteenth Street, Strivers Section, Takoma Park, and Woodley Park.
Development and production of these brochures was made possible by a Historic Preservation Fund matching grant from the US Department of the Interior, National Park Service. All brochures, including the new Washington Heights, Foxhall Village, and cemeteries brochures are available on the HPO website at planning.dc.gov/hpo.
Individual print copies may be obtained by calling HPO at (202) 442-8800 or sending an email request to [email protected].