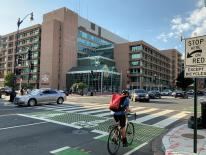 In the Summer and Fall of 2020, the Office of Planning conducted a Public Life Study at the intersection of 14th and U Streets, NW. OP conducts Public Life Studies to better understand how people perceive the public spaces around them and the types of uses they would like to see in these spaces in the future. Through observations, surveys, and spatial analysis, OP then provides guidance on how to better design our city's public spaces and how they can better serve the needs of the people using them.
The Re-Imaging Reeves: Public Life Study covers the intersection of 14th and U Streets, NW, and its immediate surroundings located in the heart of the Greater U Street historic district. Using input from two public meetings, interviews with community stakeholders, an online survey that garnered 4,500 responses as well as research into the historical and spatial context of the intersection, OP has developed a set of guiding principles to better inform the upcoming redevelopment of the Frank D. Reeves Center. These guiding principles seek to re-imagine the public spaces surrounding the site into a welcoming, active, and accessible community hub that celebrates the area's historic link to Black identity, culture, and enterprise, as well as the shared values of the District and its residents.
Reimagining Reeves Public Life Study: Final Report (to be released in early 2021).