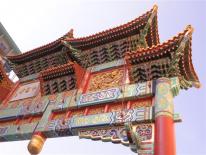 Strategy
DC Chinatown is a strong ethnic community in heart of Center City DC with a compelling history and culture; however, new development and a loss of Chinese American businesses and residents threaten its very existence. Capitalizing on its key location - near the Verizon Center, the Walter E. Washington Convention Center, and the National Mall - Chinatown has the potential to strengthen its position by becoming a premier destination for experiencing international Asian and Chinese American art and culture by tapping into the 16.2 million visitors to DC each year as well as America's 5th largest Asian American regional community.
Attracting this kind of unique investment requires a coordinated public investment strategy for both assisting with the cost of developing new cultural and authentic commercial offerings, as well as improving the experience of Chinatown's public spaces and streets. Forming a Chinatown Cultural District can attract New Chinese American and Asian-themed businesses by providing development incentives and coordinated marketing. Enhancing Chinatown's physical experience requires activating streets with Asian themed vendors and animating buildings with Chinese signage and storefront design.
Finally, Chinatown is about people, and ensuring Chinatown is a great place to live. To attract and retain both new and old Asian and non-Asian residents the strategy recommends creating needed neighborhood amenities such as improved parks, a Chinese language immersion charter school, and public safety improvements.Realizing this vision begins with developing strong community organizations that can solve shared problems and manage varied cultural events and programs. The Strategy provides detained actions and steps to build strong capable organizations in Chinatown that can realize opportunities by building on its unique assets and its dynamic location.
Goals
Developing Chinatown as a Cultural Destination

Promote Chinatown DC as the place to experience Chinese/Asian culture in the Washington Region

Creating a Physical Chinatown Experience

Develop the buildings and public spaces of Chinatown as a live stage of Chinese American history and Asian culture

Promoting Chinatown Businesses

Create a diverse and successful Asian-themed business district

Living in Chinatown

Improve services and amenities in Chinatown to create a great Center City neighborhood

Working Together

Work together to make things happen by supporting leaders, organizations, and partnerships for Chinatown
Stakeholders
The following individuals and organizations were active participants in the Chinatown Cultural Development Strategy:
Community, cultural, religious, arts, and neighborhood organizations and institutions
Residents and ANC Commissioners
Chinatown business owners and merchants
Property owners, residential and commercial developers
Washington Convention Center, Verizon Center, Downtown BID
The Planning Process
The planning process commenced in the summer of 2008, and included over 15 community and taskforce meetings during a 10 month period to learn stakeholders concerns and ideas for Chinatown. Over 100 individuals were involved, and guided the planning team in developing recommendations and actions for the Strategy. The DC Council approved the Chinatown Cultural Development Strategy as a Small Area Plan on December 15th 2009.