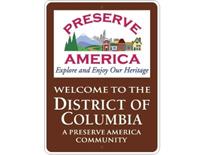 In the fall of 2009, the District of Columbia was designated as a Preserve America Community by the White House. Preserve America Community designation recognizes cities that protect and celebrate their heritage, use their historic assets for economic development and community revitalization, and encourage citizens and visitors to experience and appreciate local historic resources through education and heritage tourism programs. Benefits of designation include White House recognition, eligibility to apply for Preserve America grants, and enhanced community visibility and pride.
Preserve America is a White House initiative in cooperation with the Advisory Council on Historic Preservation and in partnership with the US Departments of Agriculture, Commerce, Defense, Education, Housing and Urban Development, Interior, and Transportation; US General Services Administration; National Endowment for the Humanities; President's Committee on the Arts and the Humanities; Institute of Museum and Library Services; and the President's Council on Environmental Quality.
Former Mayor Adrian M. Fenty forwarded the District's application for designation to the Advisory Council for Historic Preservation, accompanied by a resolution of support from the Council of the District of Columbia. The application highlighted the District's African American Heritage Trail and other cultural trails, the work of the Historic Preservation Office and the Historic Preservation Review Board, and efforts by numerous city agencies, preservation organizations, and volunteer citizen groups to preserve and celebrate our shared heritage.
First Lady Michelle Obama serves as the Honorary Chair of the Preserve America program. In conferring the designation upon the District of Columbia, Mrs. Obama stated, "You are showing that each of us has a role to play in shaping a better future, and we can do it by honoring our past." 
Since the program began in 2003, more than 800 communities have been designated as Preserve America Communities from throughout the country. Participants come from all 50 states, the District of Columbia, and US territories.
More information can be found on the Preserve America Community website.