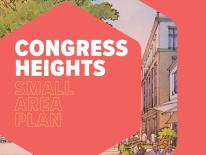 On November 15, 2022, the DC Council voted to approve the Congress Heights Small Area Plan.
Following a multi-phase community planning process, the Bowser Administration, led by the DC Office of Planning (OP), transmitted the Congress Heights Small Area Plan to DC Council on September 16, 2022 for approval. The Council held a Public Roundtable on Thursday, October 27, to discuss the Congress Heights Small Area Plan Approval Resolution of 2022 (PR 24-928) prior to the vote. The Small Area Plan guides government, private sector, and community stakeholder efforts to bring diverse housing, inclusive economic development, vibrant and safe streets, and responsive community resources and amenities to the Congress Heights Area.
Thank you to everyone who contributed to the Congress Heights Small Area Plan throughout the planning process.
Congress Heights Small Area Plan Health Equity Impact Report
During the CHSAP process, DC Health's Office of Health Equity (OHE) collaborated with OP to develop a Health Equity Impact Report (HEIR) pilot. The HEIR is as a companion document to the CHSAP and is a component of plan development and implementation. Its purpose is to:
Evaluate the potential health outcomes of proposed projects on individuals and communities;
Identify opportunities to reduce negative or disparate health effects;
Support healthy communities, healthy community design, and development; and
Inform decision makers about the potential health impacts of proposed policies, programs, or projects
For more information, contact Valecia Wilson, Senior Neighborhood Planner at (202) 442-7614 or by email at [email protected].